We are pleased to unveil one of our latest projects – a new Toyota engine conversion for the S1 Elise.
Working exclusively with a key UK supplier for Toyota engines, we are developing a kit to install the current generation 3ZR Toyota engine.  In this application , this modern 2-litre twin VVTi engine produces appx 160bhp and over 130lb/ft in normally aspirated form, in a unit that weighs the same as the Rover K-Series it replaces – thus retaining all the handling balance of the original car.  Additionally, it easily meets all current emissions regulations, whilst bringing Toyota performance and reliability to the early cars.  For the more adventurous a supercharger upgrade will arrive in 2015!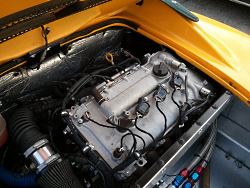 The brand-new crated engine utilises the existing Rover gearbox, and two of three engine mounts making the conversion not only faithful to the cars dynamics, but also straightforward to install.
We will be spending the coming months finalising and refining the installation, by which time we hope to have a demonstration car ready.  In the meantime, please feel free to contact us to discuss the conversion further.