Signature Exhaust Systems for the Elise, Exige and 2-Eleven
The sound of a true sports car exhaust is something that should stir the senses. A carefully designed and constructed exhaust system will achieve this – something we have created in our Signature range of performance sports exhaust systems.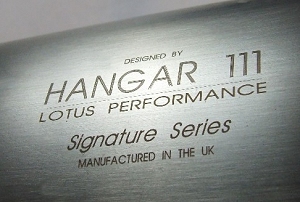 Years of experience working with this industry has taught us that many aftermarket exhaust manufacturers have been unable to get the formula just right for Lotus applications. This is because the production volumes are too low to be taken seriously. This situation has unfortunately led to cheaply constructed systems using highly-polished and super-thin materials which are simply not durable enough for tuned engines and are too loud for many tracks in the UK and Europe.
Here at at Hangar 111 our standards are very high, so we decided to design and build our own range of exhaust systems. Each system is specifically designed for each model of the Elise, Exige and 2-Eleven and constructed exclusively for Hangar 111 by an established OEM manufacturer who also implement their own exacting standards. This means you get the finest possible construction, ease of fit and durability in each system we sell. It also means that you'll have an exhaust that looks and sounds great for years to come. All Signature Series exhausts are designed, developed and constructed here in the UK.
Each system is constructed from 304-Grade stainless steel throughout and features a brushed-finish exterior with polished tail pipes. We incorporate a patented UK-manufactured accoustic media in our silencer packing for durability. Assembly is achieved with a mixture of MIG & TIG welding to achieve both a durable internal construction and attractive external finishes. All systems feature our Signature brand etched into the silencer so you know when you have a genuine exhaust system from Hangar 111.
Using carefully developed silencers, we have managed to achieve a beautiful sports-car exhaust note, while avoiding reverberation into the cabin and noise levels that will greatly reduce the likelihood of being black-flagged on the track. For accuracy and ease of installation we have created jigs to OEM production specification. This is also true for our range of motorsport catalytic convertors, decat pipes and manifolds.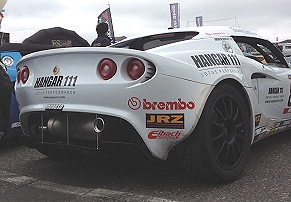 We are very pleased with our range of systems, and we believe you will be too! If you are looking for the finest possible exhaust system for your Lotus, look no further than our Signature range.
Sports exhaust systems and catalysts are available for all models and variants of Elise S1, Exige S1, Elise S2 & 111S, Elise 111R & Elise S, Exige S2 & Exige S, 2-Eleven. Look out for our video clips in the online store to see and hear our Signature exhaust ranges in action.
View our full range of Lotus sports exhausts in our online store.
To make a booking for installation or for more information please contact us.
Follow us!