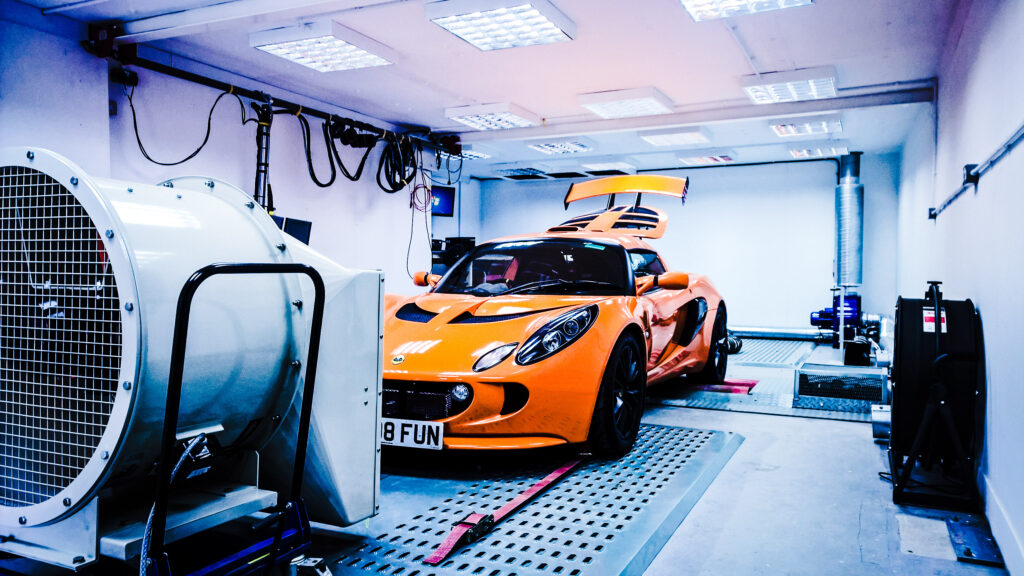 Suffolk Rolling Road – Our in-house Dyno
Welcome to Suffolk Rolling Road, operated by Hangar 111 who are an authorised Lotus and sports car specialist based in Waldringfield, Suffolk.
Suffolk Rolling Road was created after we found a gap in the market for a two-wheel drive rolling road environment that is designed not only accommodate  general performance and sports cars, but also accommodating vehicles that fall into the following categories:
Track and Race Cars with ride heights down to 70mm
Rear Engined, Rear Wheel Drive Sports Cars
Single-Seater Race Cars
Cars with specific air flow requirements (intercoolers etc.)
Our Sun Ram 3000 U twin-roller chassis dynamometer is located in an air-flowed, soundproofed environment which is able to closely replicate road-going conditions, which aids accurate measurements.  We are able to provide rear-mounted intercoolers and air intakes/scoops with airflow that ensures ambient temperatures and heat-soak into intercoolers is reduced to a minimum – situations that can make accurate diagnostics and engine setup difficult.
Performance Testing
A traditional 'power run' is always available to check your cars existing performance before or after making changes.
Diagnostics
With extensive diagnostic tools to hand we can extract data from most European manufacturers vehicles after 1996 via OBD or direct connection to the vehicle wiring loom.
Engine Mapping
A range of engine management hardware and software is catered for.  We are able to reprogramme Lotus OEM ECU's from 2004 onwards and have options for all Lotus models from 1996.  We are an Emerald M3D and ECU Master EMU Black engine management reseller.
Superchips
We can reflash your cars engine management system with a revised map that can improve torque and drivability in a wide range of high performance petrol cars.  Superchips can be installed with a "Before & After" power graph if required.
Check out our Facebook page for the latest activities!!
Follow us!