HANGAR 111 – The Home of Lotus Performance
Providing a friendly service with specialist technical knowledge and years of experience, serving the Lotus community with performance parts, accessories, servicing and repairs to Lotus specification.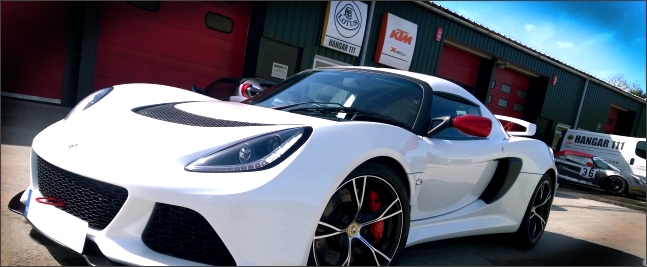 The Independent Lotus Specialist with a World-Wide Customer Base
We have a broad range of technical services to take the very best care of any model of Lotus Elise, Exige, 340R, 2-Eleven or Evora.  From a standard road car, a purposeful track day car or a fully specified race car build our dedicated team can help to realise your Lotus ambitions!
Lotus Schedule Servicing, Interim Maintenance & Repairs

Using OEM parts and the Lotus approved service schedules, we can take care of your Lotus and ensure it's performance and warranty are maintained. Our bodyshop partners are on hand to provide award-winning accident repairs to our very high standards.  MOT testing can be combined with a service.
Performance Upgrades for Road & Track

Performance and refinement of your Lotus is what we are all about. Understanding your requirements in detail allows us to guide you to the best performance components for your needs and your budget.  If you are looking for an upgrade part for your Lotus we have an extensive range here at our workshops and available to order.
Lotus Track/Race Car Preparation & Support

With a number of successful years of Lotus racing behind us we put all our knowledge, skills and experience into the building and supporting of Lotus cars for competitive motorsport.  We have achieved numerous podium successes for our customers with the early S1 Elise through to the very latest Lotus Elise Cup R.
Komo-Tec Official UK Partner

As a Komo-Tec Flagship Store, all Komo-Tec performance kits and upgrades are available for installation and setup at our Waldringfield workshops. From Elise Cup and 220 models through to the very latest Exige V6 and Evora models we can transform your car with proven power increases for road and track use.
Genuine Lotus Parts & Service

Our parts service is here to bring you every available component that was used to build your car in the first place. Whether you need a nose badge or a replacement wheel we have access to thousands of parts for the entire Lotus range.
Follow us!