Hangar 111 Racing – Our Race Team
With Hangar 111 Racing, we are able to provide full track-side vehicle setup and race support services to drivers who would like to compete in their Lotus. If you are looking to compete in the coming season, please contact us and we can advise and prepare your vehicle to a very high level and ensure you are compliant for the series of your choice.
Race Support – Arrive & Drive
We are able to support all variants of Elise and Exige, in all class formats. Evora and Exige V6 cars can also be accommodated.
Full race weekend support packages are available, including arrive and drive. Please contact us for details of our latest support package pricing.
The rigours of racing can place significant stresses on both vehicles, drivers and teams alike. With a sound, proven strategy for car preparation and a well-equipped and practiced race team, our approach has evolved to leave the driver free of the technical concerns and able to concentrate fully on their race craft. Our past successes prove our approach works, and coupled with driver feedback, we believe we can give any driver the best possible chance of succeeding in achieving their Lotus racing goals.
Please contact us to discuss your requirements.












Our drivers have picked up a good deal of silverware over the years in cars fully prepared, setup and tested by Hangar 111.  We pride ourselves on the reliability, durability and quality of our race car builds.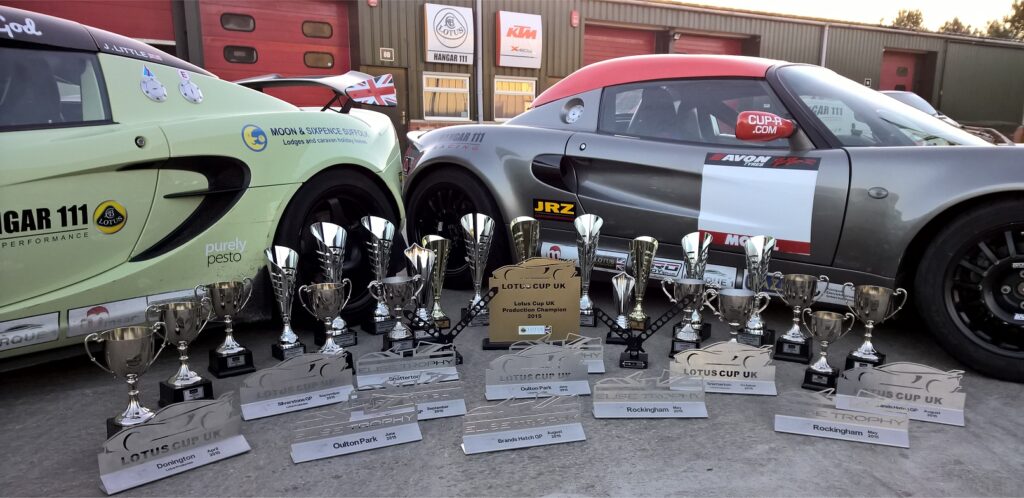 If you are looking to run your car with us this season or next, please contact us as early as possible as we limit the number of vehicles we operate at the circuits to ensure that cars and drivers receive the best possible care at all times.
---
Follow us!