Superchips Remaps – Improving Performance, Economy & Driveability
Superchips ECU remaps will optimise the performance of your car, helping to maximize your driving pleasure. Engine tuning, for petrol or diesel engines, will change your driving experience.
In today's market with soaring fuel prices, a Superchips remap can mean improved fuel economy as well as improved performance – worth a free tank of fuel or more over the course of a year.
There are so many limits on driving these days. Even your car's intended performance is restricted because car manufacturers have to allow for drivers who do not adhere to service schedules and who use sub-standard fuels. The good news is that ECU remap software can free you from these limits.
So if you want the best from your car you need an engine ECU remap. Just call Superchips and we will free your engine from those restrictive limits, giving you a more rewarding, more exciting drive.
Bluefin by Superchips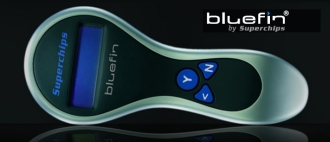 With Bluefin technology, you can bring your car alive and maximise the performance of your vehicle on the driveway at home.  No mechanical or technical skills are required to operate Bluefin, just simply plug-in and go.  More than 500,000 cars have benefited in more than thirty years' of Superchips improving vehicle performance.
Superchips at HANGAR 111
We are pleased to be able to offer Superchips remaps and Bluefin at our workshops in Waldringfield near Ipswich in Suffolk.  Using the latest Superchips remap technology we are able to enhance the performance of your car to give improved fuel economy and smoothness.
Please contact us for the latest pricing and availability of Superchips upgrades for your car.
Follow us!