This year we are once again pairing up with our friends Colin and Jo Hoad at CAT driver training to arrange several unforgettable days of activities at Millbrook proving ground dedicated to you and your Lotus.
As those who attended the last events we held will tell you, there is no place quite like Millbrook and certainly no road and track driver coaching quite like CAT can provide at this unique venue.  We would like to host 2 events this year, giving drivers the opportunity to bring along their cars and benefit from learning new skill and improving their techniques.  Our team will be on hand at each event to provide technical support and to answer any questions you may have about what we can do for your Lotus.
The price for each day is £400 per person.  Attendees will require a Lotus and a valid driving license.  Helmets will be available for hire on the day but please bring your own if you have one.
Dates on offer are:
Saturday 17th September 2016 – 6 Places
Saturday 8th October 2016 – 6 Places
Sunday 9th October 2016 – 6 Places
Note on noise limits for Millbrook… "there is no limit unless you are a Le Mans Prototype or an F1 car".  If anyone thinks they can compete at that level on noise, be sure to mention it when booking!
Full details of the event:
An action-packed day run by CAT Driver Training Ltd at Millbrook Proving Ground.
CAT Driver Training is run by Colin and Jo Hoad. Colin used to work for a leading motor manufacturer in the UK as a Vehicle Evaluator and Driver Trainer and has gained extensive experience and qualifications in driver instruction. This includes being certificated to instruct at Millbrook. His life has been spent working with his passion: motor cars – from racing minis to the race preparation of performance cars. He has much experience of vehicles on both road and track and brings a very different approach to driver enjoyment.
The day is a fast moving experience for 6 owners and their cars to introduce the secrets of performance driving. It is designed to be informative, exciting and fun. The group size is purposefully kept small so that the maximum can be obtained from the day in a highly personalised environment.
There is access to the 5 unique circuits at the renowned Millbrook Proving Ground, a venue that is not normally accessible for 'track days' and the general public.
Activities designed for the different circuits are:
Learn threshold braking from high speed on the Mile Straight
High speed driving, potentially to the maximum of your car, on the banked circuit of the High Speed Circuit
Drive the demanding Alpine Route circuit with its hills, and variety of corners from hairpins to long and sweeping
Take on the tight, twisty and challenging Handling Circuit
Put a car through its paces on the open spaces of the Steering Pad/Mile Straight Apron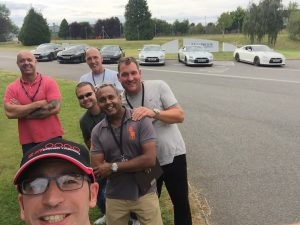 An instructor will accompany you on all the circuits, and the objective is to teach you how to get the best from your car and develop your performance driving skills in a controlled environment and at a pace you are comfortable with.
Short presentations in vehicle dynamics will help you to understand the relationship between driver input and vehicle balance and control. From this comes the appreciation of how to safely drive your vehicle at grip limit within the controlled confines of a track environment.
At the end of the day, your new found skills can be put to the test in a timed shoot out around a gymkhana-style course laid out on the Steering Pad/Mile Straight Apron.
Included in the day are:
Professional in car tuition
Access to 5 unique circuits at Millbrook Proving Ground
Lunch and refreshments during the day
Timed end of day shoot out
Full emergency services on hand all day
1 hour 40 minutes driving time with your personal instructor
The format for the day is as follows:
08:30-09:15 Coffee, Introduction, Licence Check, Scrutineering, Safety Briefing & Objectives of the Day
09:30-09:35 Drive to Circuits
09:30-11:00 Mile Straight
11:00-11:50 High Speed Circuit
11:50-13:15 Handling Circuit
13:15-14:00 Lunch
14:00-15:00 Alpine Route
15:00-15:45 Understeer/Oversteer
15:45-16:45 Gymkhana timed Shoot Out on the Steering Pad/Mile Straight Apron
16:55 Presentation & Debrief
Timings & Circuit order may be subject to change on the day depending on circuit activity
CALL US ON 01473 811811 TO BOOK YOUR PLACE