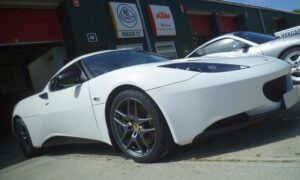 Another of our 430bhp V6 upgrade kits rolled out of the workshop today – what a lovely day for it!
The EV430 kit fitted to this Evora delivers the ultimate supercharged V6 experience, giving the car real supercar performance with effortless and continous power throughout the whole rev range, in all gears.
Fully installed, setup and tested at our workshops by trained technicians, each car receives a full diagnostic health check, giving you complete peace of mind as well as the best in V6 performance!
For current pricing and availability of the supercharged V6 Exige/Evora upgrade kits please visit our online store or contact us.