At the weekend, we were visited by members of the local East Anglian Lotus Club. Twelve Lotus, and a couple of interesting other cars, made their way in convoy in less than ideal conditions, but a warm welcome awaited at Hangar 111.

A range of vehicles were on display at the workshop, ranging from a very tidy early S1 Elise, to the latest Evora 400, via S2 Exige and Elise, and an LF1.  The championship-winning Hangar 111 Racing Elise Cup R was also present, demonstrating our state-of-the-art alignment rig in action.
Some of our current parts catalogue were available for hands-on perusal, which showed some of our developed upgrade parts, such as the Signature exhaust range, JRZ suspension, and others.  Also a number of factory and everyday parts, including the ever popular Elemental shower caps and Stormforce car covers.
A steady supply of tea and coffee, and a buffet lunch kept attendees topped up, whilst there was plenty of time to meet and chat with the H111 team about all things Lotus.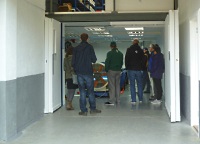 Our guests were also given an introduction to our new rolling road dyno booth, with a show-and-tell from Greg giving the low down on how the dyno works, and how it enhances our diagnostics and tuning services.
It was great to welcome club members to the workshop, we hope they enjoyed their visit, and our thanks to EALC for a good turnout of cars, and their enthusiastic drivers and passengers.