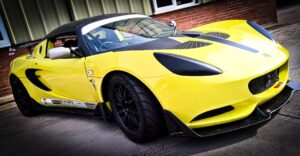 Track preparation and support is only a small part of what we can do with your Lotus here at Hangar 111.  In the last 4 years we have been up at the front of the Elise Trophy and Lotus Cup UK series with carefully prepared Toyota and Rover engined production-class cars.  In 2014 we began running the supercharged Elise Cup R and continued our postion at the front of the grid.
Since it's launch we have gathered more data and working knowledge of the Lotus Elise Cup R platform than anyone else in the UK.  We can provide cooling improvements, chargecooler upgrades, gearbox enhancements, suspension and setup to make the Cup R faster, more durable and better handling.   The proof is in the results!
The Elise Cup R is still available from Lotus Racing and are pleased to be able to supply and setup a new Elise Cup R for for the 2016 season.  This includes a free seat fitting and suspension setup here at our workshops.  The Elise Cup R is ready to race in the following wheel to wheel series and championships:
Lotus Cup Europe
Lotus Cup UK
Lotus Elise Trophy
750 MC Cartek Roadsports Endurance Series
750 MC The Birkett Silverstone 6 hr
MSV Team Trophy Mini Endurance
MSV Track Day Trophy
BARC Sports/Saloon Championship
The Elise Cup R also makes an excellent sprint/hillclimb prospect with it's low-down torque and instant throttle response. Eligable sprint series include:
750 Motor Club
Lotus Cup Sprint Series
Borough 19 Sprint Championship
BARC SBD Sprint Championship
Of course we can prepare and support your racing requirements in any post 1996 Lotus so get in touch if you would like to know more!