We've been supercharging the normally aspirated Elise and Exige for a number of years now, continually evolving and refining the performance of our kits. While bolting on a supercharger is relatively straight-forward, making the package work dynamically with the car, delivering the power smoothly and safely has always been our aim. This is no different in our latest generation of Elise and Exige 280S installations which feature our super-efficient chargecooler and Komo-Tec's latest engine management optimisations.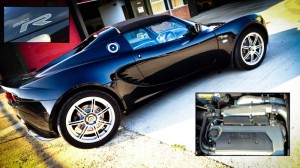 The cars can be run on the track without the power loss associated with the intercooled factory cars. Using a chargecooler (water to air intercooler), much lower inlet temperatures are achieved allowing the ECU to deliver consistent, reliable power. This effect is thanks to our in-house designed chargecooler systems that have been carefully developed over the last 5 years.
The 280S achieves 285-295bhp and around 180lb/ft of torque, delivered smoothly and with excellent road manners, and is available for all Toyota 2ZZ engined cars, including the 111R.
Full details of the kit can be found in our online store