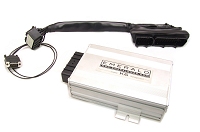 During the course of 2010, we worked with engine management guru Dave Walker and Emerald to develop several plug-and-play solutions for Lotus-specific applications.  We are now pleased to announce the first of several very significant developments for Toyota engined Elise 111R, Exige S2 and Supercharged Cup 240 – all featuring the cable throttle assembly.
Dave's words on this first development on the 2ZZ engine….

"This is an engine that we have been meaning to get around to for some time, but only with the new Emerald K6 ECU has a conversion really been practical.  By teaming up with Hangar 111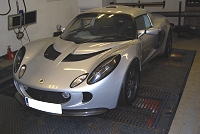 we have had the benefit of their experiences in converted supercharged engines, albeit running a re-mapped stock ECU.
After running up their supercharged demo car on our rolling road we installed a new K6 with an adapter harness and set about re-mapping. We spent some time on the cam switching and cam timing maps to see if the stock ECU settings could be improved upon.
Our experiences with the Rover VVC engine led us to believe that the standard Lotus settings would not be improved upon. Without giving too much away at this stage we did find some fairly spectacular gains over the re-mapped stock ECU on this supercharged engine: 30 bhp at one point in the rev range!
Hangar 111 will be offering conversions for cable throttle cars using the triple map K6 ECU fitted via an adapter harness that also contains some hardware to keep the AC unit fully functioning and a CAN bus link in the K6 will power the standard dash."
The Emerald K6 represents excellent value-for-money with easy -to-use software and a wealth of knowledge to support the product.  The fact that in this guise it is fully compatible with the original dash and simply plugs in via an adapter means instant cost-savings for the tuner.
For more details, contact Hangar 111 on 01473 811811 or email technical@hangar111.com.