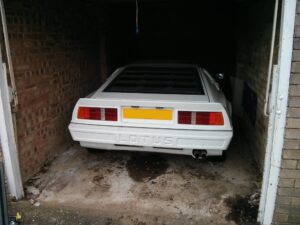 Today we were asked by a customer to collect a car that has been left parked up for a long time.  We knew it was an Esprit, but weren't entirely sure what we were going to find…
Turned out to be an S3 Turbo Esprit HC, that has stood in a garage for about 10 years after the owner became unable to run it.  The car is totally original, with just 48,000 miles on the clock, and big pile of paperwork to back it up.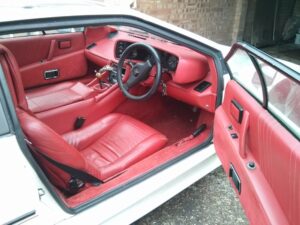 After some cajoling, we got it out into the daylight for the first time in a long while.  The interior is complete, original, and in great condition – indicative of a car that was once loved and well looked after.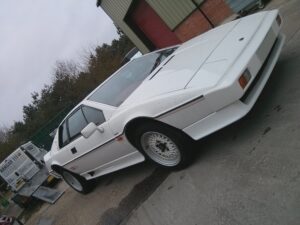 It's now back at the workshop, had the dust washed off it, and is ready to be gently brought back to life.  Lots of care will be taken to inspect everything and work out what needs to be replaced.  Hopefully the engine will turn over, but we'll be checking it all carefully by hand first.
If you're interested in a genuine all-original project car, that needs some TLC to be brought back to life, please drop us a line and we can put you in touch with the owner.