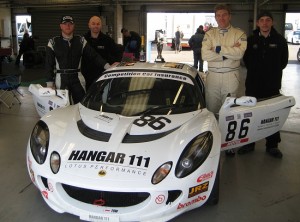 Performing vehicle setup at the trackside is a key skill that aided our race team greatly during the 2012 race season leading to successes for two different drivers who required very different vehicle dynamics.  During 2013 we are extending this service to new and existing Hangar 111 customers who would like to go faster on the track and make best use of any modifications or upgrades that might have been fitted.
If you are planning suspension, brakes or other performance upgrades we can offer you the opportunity to combine a session with our professional instructor Andrew Bentley and our race team who can carry out on-the-spot adjustments to your car at the track side.
Just a few of the things you will benefit from by attending one of our Driver "Tuning" Days :
A better understanding of car set-up and dynamics
Improved driving technique through evaluation
The confidence to go faster on the track
Make the most of the modifications you have made to your car
A tuned setup to your specific needs
During a half-day or full-day of driver coaching and vehicle setup, you can benefit from Andrews many years as a race driver and driving coach and learn more about precision car control, improve your understanding of the car and how small changes can make a big difference when implemented by our race team.
"Hangar 111 Driver Tuning" days are available on request and can be arranged for one or two people at virtually any UK motor racing circuit.
Contact Greg for further information about this service