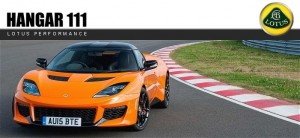 Some important changes are happening at Hangar 111 over the next few months!
What's happening?
On Monday 2nd November 2015, we will be announcing our new status as an Official Lotus Service Centre!  During 2015 we have been evaluated and inspected by Lotus and have now been given the thumbs-up.  After almost 14 years of serving the Lotus community we are proud to become affiliated with the sports car maker that we have always held so dear.
What does this mean?
The main benefit is to our customers. An authorised Lotus Service Centre receives full factory technical support, access to the full Genuine Parts range and the latest Technical Bulletins for newer vehicles.  As a Lotus Service Centre we are able to carry out those all-important warranty and recall items that may affect more recent vehicles.
The key benefits to our customers will be:
The ability to carry out factory authorised warranty work on newer Lotus vehicles.
The very latest factory diagnostics technology.
Access to the full Genuine Lotus Parts range and official Lotus Accessories via our website and parts counter.
Full factory-backed technical support.
Up-to-the-minute factory technical bulletins.
An official Lotus Service Stamp in your maintenance record.
So what will change?
While there are lots of added benefits to our customers, it will be more-or-less business as usual at our workshops.
Vehicles at Hangar 111 will still receive the same attention to detail that we have become renowned for, and the valuable Hangar 111 service stamp in your maintenance record will now feature the official Lotus roundel.  The performance parts and tuning aspects of the business will be unchanged. Our maintenance and servicing prices will still be outstanding value for money, and will continue to be carried out to the precise schedules as defined by Lotus.
Over the next few months you will see some tweaks and re-branding taking place on our websites and these updates will be announced in our newsletters.
Thank you for your continued support!