The first day of November saw the LOTRDC season finale on the Snetterton 300 track.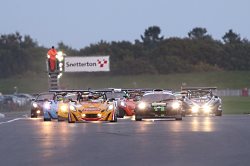 Friday saw an unseasonably warm test session, followed by a successful first practice for all cars and drivers in the dark – proving that our great new Lazer lighting solution worked really well.  In practice, Richard Hywel-Evans car was fastest in class, with his co-driver Jack Goff at the wheel, whilst James Little and Andrew Bentley came in 5th, and Nick Pink brought his car in 12th.
For Cup UK qualifying, Richard and Jack deployed some tactics to ensure that Richard would start the race, with Jack driving to the flag – Richard qualified the car 6th in class with an excellent 2:13 lap.  James and Andrew were set to share qualifying, but after only a handful of laps, Andrew returned to the pits with a failed rear wheel hub, so the H111 team set about getting that fixed – it was still enough to qualify the car 4th in class.  With Scott still en route from Dubai, Nick qualified his car in a creditable 9th place.
There was also the small matter of the final two rounds of the Elise Trophy, to keep the day busy. Qualifying saw James fighting it out at the top of the grid, ending up pipped to 4th place in the dying moments of the session. Richard drove well to 6th, whilst Nick played it safe and qualified in 26th position.  Things kicked off early on in the first race, where Richard was involved in an incident as he was exiting Riches – an unfortunate end to the season for car 99, with Richard looking very strong for a championship podium position.  Meanwhile, James had a great race to net himself another podium, finishing in 3rd place – brilliant driving.  Nick drove a solid race to make up 9 places and finish in 19th.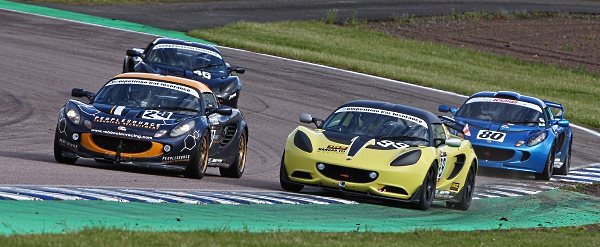 In the second Trophy race, James had another stellar drive, and bagged himself yet another 3rd place, and an appearance on the podium – not too bad for a driver in his rookie season.  Nick had some problems with his car, but managed to bring the car home safely.
Sadly the problems with Nicks car #36, meant it couldn't run in the final race of the season, the 2-hour "into the dark" Cup UK.  The team was down to just one car, following the earlier retirement of Richard and car #99.  It was down to James and Andrew in car #34, to uphold H111 honour!  The race was split into two one-hour sprints, with a race classification declared after one hour, then again after two.  Andrew started the race, and delivered some excellent consistent lap times for the whole of the first hour – and crossed the line in first place.  The pit stop went smoothly, and James was out again in the car for the second hour. He continued his excellent weekend pace, and whilst the win slipped from our grasp, he came home in another very creditable 3rd position.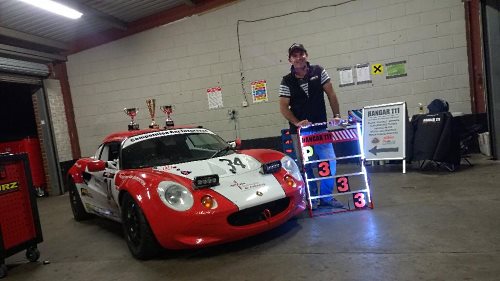 All in all, a mixed final event of the 2014 race season. An excellent performance by James in car #34, with 3rd place podiums in all three races. Some great times delivered by Richard in car #99, only to see it end prematurely. Whilst Nick drove securely in car #36, to achieve his own target results.
Our thanks to our drivers: James Little (and Andrew Bentley), Richard Hywel-Evans (and Jack Goff), and Nick Pink (and Scott Mansell), for a brilliant season of racing, delivering some really good results in their first ever season of driving.