Last weekend, the doors of our refurbished workshops were opened to members of SELOC for an event organised by the local Essex liason, and Lotus stalwart, John Murphy.
Around ten Lotus and a few other interesting cars braved the chilly conditions – thankfully the icy weather stayed away, and even the sun popped out briefly!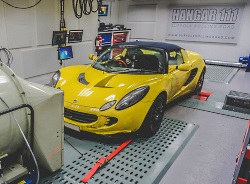 A range of Lotus cars were on display in the workshop, an Elise S1 stripped of it's bodywork and suspension provided an insight into what goes on under the skin, as well as the Cup R race car, a recently refurbished Elise, and a couple of interesting cars currently for sale.
We also had displayed a range of our spare and upgrade parts, including some of our new exhaust developments in conjunction with Komo-Tec.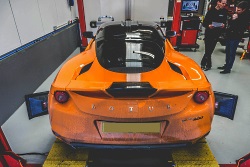 Attendees were able to take advantage of some special prices for power runs on the rolling road, as well as corner-weight and wheel alignment checks on our state-of-the art alignment rig. A plentiful amount of tea, coffee, and lunch kept everyone fuelled up for the day, and there was plenty of opportunity to chat with members of the H111 team about all things Lotus.
It is always nice to welcome enthusiastic and knowledgeable club members to the workshop, we hope they enjoyed their visit, and our thanks to SELOC for a good winter turnout of cars, their drivers and passengers.
Here's what some of the people visiting thought…
"Another great meet up, thanks again John. Very impressed by the set up at Hangar 111, top marks and what a nice bunch!"
"Thank you to the Hangar 111 team for a warm welcome today. Great to see the rolling road in action, and the workshop upgrades."
"I would just like to convey my thanks to you, Marianne and the team for hosting a superb event on Saturday. I thoroughly enjoyed the event and to those I've spoken to also had a great day. Very professional team and excellent facilities you have. The rolling road facility and experience is none other than 1st class."
" Thanks to the Hangar 111 guys (and lady) for the warm welcome, coffee and lunch too. Was my first time there and good to see an impressive set up with enthusiastic knowledgeable people involved."
"I had no idea what to expect before arriving. The Hangar 111 facilities are amazing. Almost felt the need to take my shoes off before entering the workshop! They have obviously put a lot of effort into it. Plus they are quite clearly a team of knowledgeable, experienced and professional people. Very impressed indeed. It has given me comfort that there is some quality support around."