One of our in-house developed K-series Rotrex supercharger kits is all-set for installation into an MGF.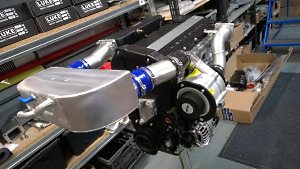 Whilst there will be a small amount of tweaking required to ensure everything fits correctly in the confines of the MGF engine bay, our Lotus Elise supercharger kit should be a straight fit.  With our well-tested Elise chargecooler alongside, the kit should be good to produce 250bhp and 200lb/ft.
We test fit every kit we assemble prior to despatch, to ensure that there should be no issues with fitment on your own engine.
See our online store for further details of this excellent engine upgrade package.