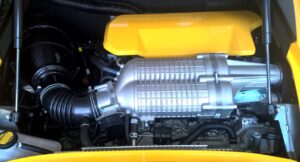 Hangar 111 are official UK installer of Komo-Tec tuning products for all Lotus models. We upgrade all models of Elise, Exige (S2 and V6) and Evora to give more power and torque as only Komo-Tec can deliver.
Our partnership with Komo-Tec spans over 10 years during which we have created some truly awe inspiring cars.
The latest upgrade for the Exige and Evora gives appx 430 bhp and 345lb/ft of Torque – giving these cars true 'supercar' dynamics befitting of their excellent chassis.
It doesn't stop at the power however! The sound effects from the specially developed Komo-Tec 3-1 manifolds are unrivalled – giving amazing sound effects while retaining the ability to take the car on the track without tripping the noise meters (with the standard exhaust fitted).  The EX430 (Exige) and EV430 (Evora) kit is £4399 . Installation takes appx 3 days and includes a vehicle health-check before we proceed with installation.
The kits includes:
Specially Designed Stainless Steel 3 into 1 Manifolds
Single Ceramic Sports Catalyst
Wiring Loom Extensions
Carbon Fibre Induction Kit ("CAI")
Modified Crank Pulley
Engine Management Reprogramming
All installation, setup and fuel testing
For those looking for a stage upgrade, we can also install the 390 and 410 version of the kit which are available for a lower cost. For more information please see the product pages HERE.