KTM has revealed an exciting preview of the all-new KTM X-Bow GTR GT4 race car.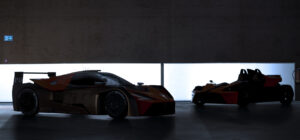 (Image © KTM 2014)
The GTR is a joint project between KTM and Reiter Engineering, with Austrian design studio Kiska responsible for the overall visual design.
The name and the price have now been confirmed: The KTM X-BOW GTR will be available from April at € 139,000.
The first roll-out of the new vehicle is set for February. March will see the commencement of performance testing, and in spring the GT4 racing car will be available for the numerous customer teams that have expressed an interest.
Now that the various development processes are completed and most of the production processes have begun for the many special parts, Reiter Engineering owner Hans Reiter is now able to communicate the price of the KTM X-BOW GTR. "At € 139,000 we have managed to offer
an attractive price for the most modern and safe GT4 racing car on the market. The GTR features the most advanced racing technology, which is normally only the case in higher categories. And in matters of safety, the monocoque technology offers the most unique protection ever in this class up to this point in time. In addition, thanks to the special construction of our latest racing car, the 'running costs' are kept within encouraging limits."
The creation of the GTR is another important next-step in the ongoing evolution of the X-Bow. KTM launched the X-Bow in 2008, and the X-Bow GT, which features a wrap-around windshield, in 2013. The addition of a third iteration of the X-Bow, one that is fully covered and "Ready To Race" is the next logical step in the vehicles development.