We were fortunate to have two extremely different Lotus at the workshop this week.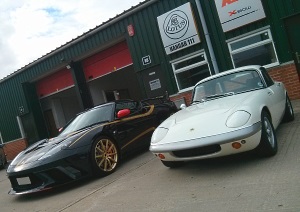 Firstly, an Evora GTE, one of just 20 cars that were built for the road by Lotus Motorsport, based on the original GTE race/concept cars.  With it's 100mm wider track and body styling, this car features the 'GP Edition' livery, inspired by the Lotus Renault F1 cars of 2011, so it has some serious presence.  The car was with us for an EV430 power upgrade, so now it has a performance boost to match it's appearance.
At the other end of the scale, the Elan S3 FHC built in 1966, is compact in its dimensions, but by no means less purposeful. This particular car has been developed for speed events, so it's performance punches way above its size might suggest – thanks in part to its relatively feather weight, but also the tuned Lotus Twin Cam engine is delivering around 50% more power than standard.