A great result for James Little, Andrew Bentley, and the Hangar 111 Racing team at Donington Park today – first place for the Elise Cup R in Lotus Cup UK!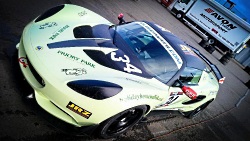 With a sudden downpour on the grid giving a wet start to the race, James drove brilliantly (on dry tyres!), despite a spin which dropped him a couple of positions. At the perfectly timed mandatory pit stop around half distance, James had driven back up into 3rd place, when the driver change put Andrew into the car. Andrew then went about setting some impressive lap times as the track dried, to catch and pass the leader just a few laps from the chequered flag.
A great team performance got us the top step of the podium – congratulations to James and Andrew on an excellent drive in tricky conditions, with the Cup R delivering some seriously impressive lap times in all conditions.