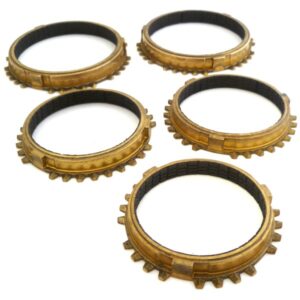 We are pleased to have in stock complete sets of new, upgraded synchromesh rings for the Rover PG1 gearbox.
Our new synchro rings feature a carbon lining to give maximum durability and smooth shifting in high temperature/high-load conditions. The rings are sold as a complete set and are a direct replacement for the originals.
If you are having trouble with your Elise, Exige or 340R PG1 gearbox, we can rebuild your box (including removal and refitting) here at our workshops. We have many new and used components for these gearboxes on the shelf.
The new synchro kits are available now from our webshop HERE