We've had a positive racing season so far, with all of our drivers doing very well in their novice years.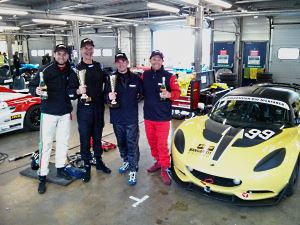 Our best overall team performance came at Rockingham in May, where we scored a 1st,2nd, and 4th in class, in the Lotus Cup UK race.  James Little (car 34) drove a great race to pip team mate Richard Hywel-Evans (car 99) in second, whilst Nick Pink (car 36) held on for 4th place.  The guys were rightly pleased with their race weekend after coming close to taking over the whole podium!
James continued his excellent run of form at the Brands Hatch Lotus Festival rounds, where he made another podium after an exciting Elise Trophy race mixing it with the championship front-runners.  He then followed this up with a 4th place, just fractions of a second off another podium in the Lotus Cup race.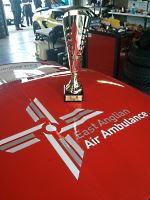 Things came good again for the team at this weekends Donington rounds, where on Saturday we achieved a 3rd, 5th, and 9th placed finishes in the Lotus Cup race. In car 36, Nick Pink started well, with Scott Mansell taking over at the pit stop, finishing up in a commendable 9th place. Richard Hywel-Evans had a steady run through to 5th place, whilst James Little scored himself yet another podium finish.
With just one round to go, Richards consistency sees him sitting in 4th position in the Lotus Cup UK Production class, just two points behind 3rd place, so it's still all to play for. The final race is on Saturday 1st November at Snetterton, and is a two-hour race, starting at sunset – should be challenging and entertaining!  The team from EAAA will be with us, to round off another year of supporting this vital charity.