Our eagerly awaited new line of Signature Stainless Steel ("S3") Exhaust systems are now in stock and are grabbing attention fast.
In late 2009 we took the sports exhaust system back to basics and desgined a brand new range that fit in with our key criteria:
High Quality Stainless Steel for strength and durability
Refined Sports-Car Sound
No Cockpit Resonance
Straightforward Installation
Refined Tailpipe Appearance
Track-Day Friendly Noise Levels
Great Value for Money
Signature Stainless Steel Exhausts are our new range of precision manufactured exhausts for Lotus Elise, Exige and 2-Eleven.  They represent years of experience and understanding of what a sports exhaust system should be and are considerate to special requirements such as track day noise levels and in-car comfort.

Designed by Hangar 111 and manufactured in the UK by OEM suppliers for some of the most prestigious cars on the planet, our Signature Stainless Steel exhausts will soon be available for other legendary makes and models.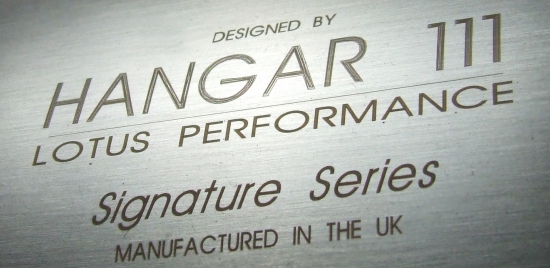 Visit the online store and check out the Signature sports exhaust for you model now!
*Elise S2 and S2 111S Models due in December.  Elise S1 Models Sold out !! – more stock due in December.