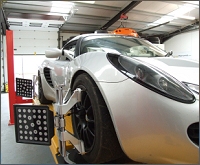 If you drive your car fast on the road or attend track days then you will know just how important it is to keep your alignment in check.
Poor suspension alignment will not only affect your cars handling, but also your tyre wear and braking – ultimately leading to higher costs in the long run.  We recommend an annual check of the suspension geometry and an additional check if you have driven through a pot-hole or clipped a kerb.
We have the latest state-of-the-art camera-based 4-Wheel Alignment System that is capable of adjustments down to 1/60th of a degree which means we are able implement your chosen setup extremely accurately. We hold in stock all spacers, shims and adjustment components so you can be sure that your car will leave us with the best possible ride and handling setup.
Winter special pricing is now on our website – CLICK HERE for details