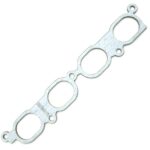 Heat soak into the inlet can be a problem when the cylinder head is in direct contact with an alloy plenum or throttle bodies via a steel or thin silicone-based gasket. In supercharged applications, the cooling from the intercooler or chargecooler on air inlet temps can be compromised if the inlet manifold becomes heat-soaked.  We have observed some very hot inlet manifolds and throttle bodies on normally-aspirated and supercharged cars, running both on the rolling road, and on the track.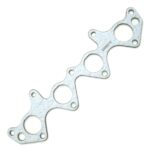 In conjunction with a leading OEM manufacturer, we have developed our own thermal inlet manifold gaskets which considerably reduce and can eliminate the heat soak effect.  This simple addition can make a big difference, particularly in the confines of the engine bay, and when the ambient temperatures are high.  We particularly recommend these for the Supercharged K-Series and Toyota 2ZZ engines but also for users of K-Series engines with Throttle bodies or VVC manifolds.  Look out for gaskets for the Exige and Evora V6 models which will be coming soon.
Thermal inlet manifold gaskets for Rover K-series and Toyota 2ZZ engined cars are available now via our online store.