We are now pleased to be able to offer a refurbishment service for Turbo Technics Elise Superchargers.  The work includes complete disassembly and reassembly of the supercharger unit and inspection of internals with replacement parts if necessary.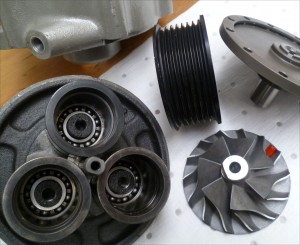 – Inspection of all Internal Components
– Replacement of Internal Bearings
– Replacement of Inner and Outer Oil Seals
– Remanufacture of some internal components
All work can be combined with a service for your vehicle.
Prices start at £465 +vat for bearings, seals and inspection.
If the supercharger unit has failed (noisy or heavy rattles present), internal components may be required.  Turbo Technics are no longer able to supply stock of these components.  Reproduction of the components to the precise specification required would be very expensive, therefore we recommend having your charger inspected and refurbished every 3 years and the oil cooler system inspected and flushed through at each service.
Please Contact us for more details about this service.