Noise is an ever increasing issue at trackdays in the UK – particularly when fitting a performance exhaust system to a car.  The latest switchable exhaust silencer for the V6 powered Exige and Evora models, provides a method to help with this problem.
The Lotus OEM silencer has to pass stringent testing for type approval, which is why Lotus fitted a flap valve to produce two routes through the exhaust.  This is not in itself a bad idea, as you don't always want your car to be vocal, but the OEM silencer is restrictive, so has to open the flap at higher engine speeds to prevent high levels of back pressure affecting the engine.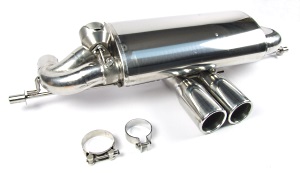 The uprated exhaust design from Komo-Tec, features a very high quality exhaust valve, and eliminates the high level of back pressure, so it is possible to run with the valve closed, if required. In order to achieve this, and not cause the ECU to produce an error code, we created a simple exhaust lock-out system. The addition of a basic toggle switch to the cockpit means that the exhaust can be locked either open or closed, using the existing traction control mode switch in the car.
Additionally, when the silencer was developed on the dyno, the car delivered the same power with the valve closed as with it open – so you can have all of the power, either with or without the noise!