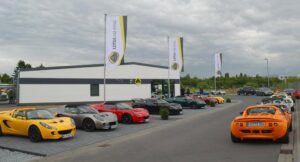 A couple of weeks ago we paid a visit to the HQ of our German tuning partner, Komo-Tec, based in Mendig. As well as seeing the impressive new showroom for their recent Lotus-Am-Ring dealership, we were able to have a sneak preview of the work-in-progress on all their latest developments for the V6 powered Exige and Evora cars.
Engine Upgrades
The next level of power upgrade for the V6 engine is the EX/EV460. This upgrade introduces the first chargecooler system available for the existing V6 cars. Fitting a chargecooler core to the existing engine configuration is no small task, due to the supercharger sitting within the vee of the engine. Komo-Tec have developed a clever solution to replace the existing inlet manifold with one which can house a core, the benefit of which is a very short post-core inlet length.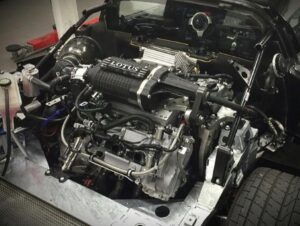 The resulting reduction in inlet temperatures allows yet more power to be safely made by the engine, with initial dyno mapping showing 452bhp and 360ft/lb of torque, an incredible increase of around 100bhp and 60ft/lb over the standard car!
Beyond the 460 power upgrade, there is also an EX500 upgrade in development. This is a much more serious upgrade path, that will be the basis of the 500+bhp upgrades. At this level, the engine internals need to be strengthened to cope with the additional loads, and also a larger supercharger is fitted to deliver increased boost levels.
The EX and EV 460 upgrade kits are scheduled for fitting to first customer cars in February 2016. The 500 kit will be undergoing significant testing in the new year with a view to the first customer cars fitted soon after that.
Transmission Upgrades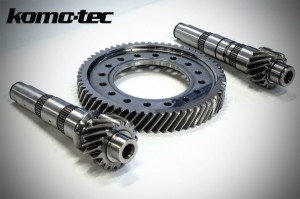 To compliment the power upgrades available for the engine, the close-ratio final drive kit is primarily designed to close the gap between 4th and 5th gears. On the standard gearbox there is a speed drop of some 44mph between 4th and 5th gear, whilst 5th and 6th remain quite close, the car is geared for a top speed of 195mph, which it is unlikely to achieve.  The gearbox actually has two final drives within, one for gears 1st to 4th, and a different one for 5th and 6th.  By modifying these final drive ratios, it is possible to achieve a better spread of the gear ratios, and also shorter gearing to give better acceleration throughout with little impact on realistic top speed.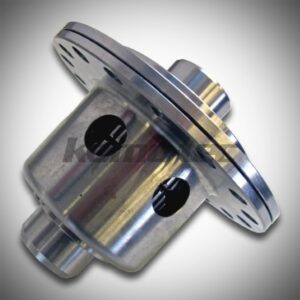 An ideal supplement to the close-ratio gear kit, a limited slip differential is also now available. This is a Salisbury-type LSD, with preset ramp angles developed for fast road and trackday use, to suit the characteristics of the V6 powered cars (ramp angles can be modified prior to installation if required). With this fitted, wheelspin out of corners is minimised, and wheels locking under braking almost totally eliminated.  This is the perfect upgrade for the trackday driver, providing increased confidence and speed on corner entry and exit.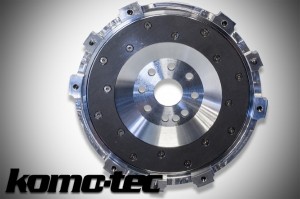 The ultra lightweight flywheel and uprated clutch kit, is specifically developed to deliver a more durable clutch system, as well as a reduction in rotational inertia in the drivetrain. A stronger clutch pressure plate and paddle clutch friction combine to give increased clutch bite, whilst the sprung friction plate means it retains road usability. The billet-machined lightweight flywheel provides sharper throttle response and increased speed and accuracy of gearchanges.
All transmission upgrades are now available via our online store.
Brake and Wheel Upgrades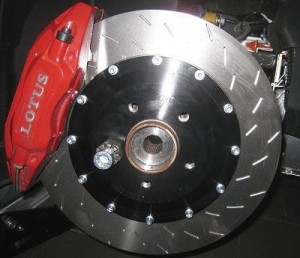 For fast road and trackday use, a brake upgrade kit is now available. The kit retains the original brake calipers, but replaces the discs with a larger 343mm rotor mounted via a high-quality aluminium bell. Despite the increased size, this brake bell and rotor combination weighs approx 0.5kg less than the standard disc, but still delivers increased braking power and reduced fade.  Complimenting the disc upgrade, are a set of uprated pads, which deliver excellent bite from cold, right through to high temperatures.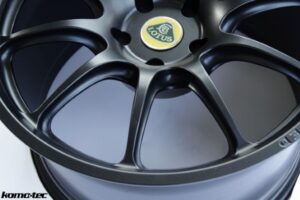 For those looking for an alternative road wheel, whilst retaining an OEM Lotus appearance, Komo-Tec have exclusively commissioned a forged alloy wheel. The wheel design matches those used in the current Elise range, but is now available in sizes to suit the V6 powered cars. These wheels are a direct replacement, with no need for spacers or longer wheel bolts, yet is significantly stronger and lighter than the standard wheels.
A set of these forged wheels weighs 8kg less than the standard wheels, providing a useful saving in rotational unsprung weight. Available in the UK via Hangar 111 – current pricing in our online store.
It was great to catch up with Daniel and the team at Komo-Tec, and all their latest developments ahead of the Luxembourg motorshow debut for the Exige EX460.