One of our local customers has kept his prized Elise S1 in totally standard form, clocking up over 109,000 miles using it almost every day (he loves it!).  The car has been regularly maintained and is usually given a clean bill of health every year, apart from the usual wear and tear items – wheel bearings, ball joints etc.  With about 3 weeks to go to the annual service, the car developed a vibration which the customer ignored for a few days then it developed into a louder rumble and then a clonk from the engine bay then the alternator charge light appeared on the dash.  The customer assumed the alternator was the cause so drove on, working on the principle that the battery would get him home okay. Unfortunately a few miles down the road, everything ground to a halt, and he called us to the rescue.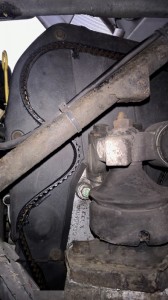 What we found was somewhat surprising… the crank pulley bolt and load washer were completely missing – that was the clonk.  In turn this caused the crank auxillary belt pulley to fall onto the undertray and the auxiliary belt to detach – that was the charge light.  The keyway on the cambelt pulley had broken, but the engine kept running until such time that the cambelt had sawn its way perfectly through the cover!  In all the years we have been a Lotus specialist, this is a first!
On removal of the head, 4 exhaust and 2 inlet valves were bent, however in traditional K-Series style the head was too soft to be re-used, coupled with the cylinder liners being at the lowest allowable protrusion.  This combination finally sounded the death knell for this trusted high-miler engine.  With the car in otherwise excellent condition, the customer is now going ahead with a fresh block build and one of our new heads, ported and polished to 150bhp spec.
Our diagnosis was straightforward enough, however the root cause may lie with the missing crank bolt and load washer.  The best thing we have to go on is that the auxiliary pulley has some of the rubber dampener missing and was no longer running true.  The dampener may have simply gotten old and perished, developed a vibration that led to the crank bolt coming loose over time.  Either way we are stocking up on auxiliary pulleys and crank bolts to be on the safe side!
You can sometimes see the start of a pulley dampeners demise before noises begin.  We check them by eye on the service with the engine running while we check the exhaust for leaks.  We've seen a few wobbly ones in action that neither chew nor throw belts, so I suppose it could be classed as a 'silent killer'!