After the excitement at the Brands round of the Elise Trophy and our absence from the Castle Combe round due to driving work commitments, we returned for a busy day at Oulton Park for the 4th round of this years LOTRDC series.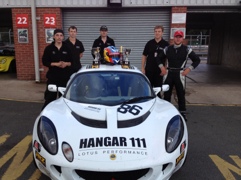 Hangar 111 driver Andrew Bentley was straight back in the saddle of our production class Elise 111R and right away clicking up lap times that mirrored and exceeded those of the previous season. We were back!!
In brief, we achieved a 1st place finish in Elise Trophy race 1 after the Rover-Powered Elise S2 of Rob Boston retired from P1 on the last lap of the race.
In Lotus Cup UK we held a tight 2nd place to the finish however we unfortunately picked up a 2 lap penalty for leaving the pits 2 seconds early after refuelling!
Elise Trophy race 2 saw an incredible flying start from Bentley, moving from 8th into 1st place within a half-lap, a lead which held to the finish with 2nd place Rob Boston catching up throughout. Amazing adrenalin in the pits and incredible racing to watch.
It all came together this weekend with a race meeting that technically gave us three podiums had it not been for the penalty. Amazing driving by Andrew and great performance from our team.
Thanks to to the team – our latest additions Ben and Sam, also to our regular honorary team member Rob Clarke for the spannering, fuel, lunch and breakfast trips! Thanks also to Marianne without whom we would have been without brakes on Saturday morning!!
I should mention the huge number of calls, emails and text messages we have received from customers all over the world since Sunday – superb encouragement!! See you at Brands Hatch for the Lotus Festival!!