Review of the Komo-Tec 'Ko-Bra-4-4' brake upgrade kit for V6-engined cars, from a first-time Hangar 111 customer: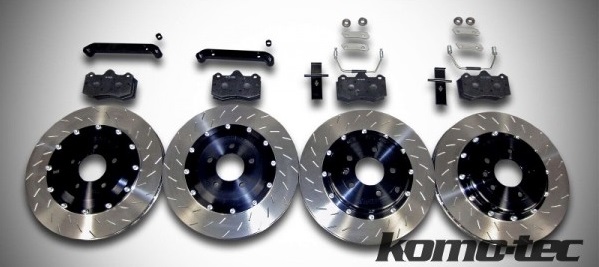 "I've been running my Exige V6 for close to two years, the car is used mainly for track and weekend outings. I typically run about 6 track days a year with an intention to get to 2 track days a month over the course of 2016.
Many Lotus Exige owners have been fairly happy with their brake setup, however many including myself, found the initial weak point of the setup being the brake fluid used from the factory. I found for example, my brake fluid needed changing after just one hard track day.
Over time as with anything, consumables need replacing, and it was time for a pad and disc upgrade. I had had issues with drilled disks before, holes filling up and needing maintaining etc… So as I looked at what options where available I was keen to ensure I upgraded to grooved discs, I was also keen to look at upgrading to a 2-piece disc setup as found on the Lotus Exige V6 CUP which interestingly is also grooved and not drilled as per the standard v6. My options where to upgrade to the CUP setup from Lotus Motorsport, or look go aftermarket.
It's here where I realised that there were not many tested options available to the market, other than the KoBra 4-4 setup from Komo-Tec which had been available for over a year and had done thousands of miles testing on the Nurburgring.
As is always the case when looking at OEM vs aftermarket, there's always that doubt or concern as to if going aftermarket is the right thing to do, will it be of the same quality as OEM, will it work, will I get support etc.. etc..
So with this in mind I reached out to Hangar 111 as I wanted to test the level of UK support available as I wasn't too keen on relying on overseas support by buying direct from Komo-Tec. Not that I had any concern with Komo-Tec, but basically I wanted someone local I could get hold off in the event of something going wrong! I was very pleased with the speed of response from Hangar 111 to all my questions, equally the depth of their answers gave me the confidence not only that they knew what they were talking about, but equally they knew the Komo-Tec products, and if they didn't know the answer straight away they'd have me a firm answer within 24 hours.
With regret I wasn't able to get such a high speed response from my local Lotus dealer who I had enquired about the Lotus Motorsport option.
Putting support aside I also looked at the cost difference, and was surprised to see the high cost of the Lotus Motorsport kit. In essence with the Lotus kit you also have to purchase a new set of pads, where on the Komo-Tec kit Performance Friction pads for the front and back come as part of the package. So the Komo-Tec kit is a more complete package and actually cheaper than the Lotus option.
So knowing the Komo-Tec kit was well proven – I even got to speak to Komo-Tec's test driver! Support in the UK from Hangar111 was great, and from a price perspective and complete package it was better than Lotus Motorsport. I went ahead with my order for the KoBra 4-4 setup via Hangar111.
Within a week the kit had arrived and was installed. The kit itself is a work of art, everything looks extremely well engineered, for example the bells are nicely engraved with the Komo-Tec logo, the hardware is of the highest quality, and the finish makes it a real shame to hide them behind the wheels! The instructions were comprehensive and pretty easy to follow.
After a brief bedding in period I was out at my local circuit (Castle Combe) and ready to really test the kit under track day pressure. The durability of the KoBra system is pretty phenomenal as a package it did not budge from being epic all day. The feel of the pedal and brake was consistently strong and did not degrade at all and this is after a good second half of the day whereby my confidence was at the highest and I started to attack lap times. The stopping power is so good I've had to re-evaluate my normal braking points, thus allowing me to brake even later, and building further confidence in holding higher speeds into the corners.
At the end of the day I checked over the brakes and they looked as new as when I started, the other advantage of the KoBra system using Performance Friction components also seems to result in pretty much zero brake dust.
Highly recommend both the Komo-Tec product and Hangar 111."