A short customer review following installation of the Komo-Tec EX460 upgrade kit to his V6-powered Exige: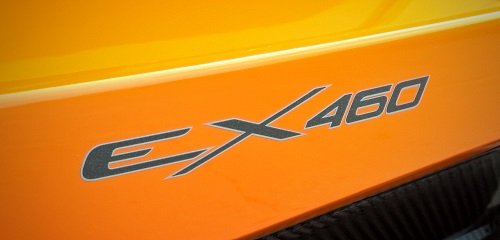 "I picked my V6 up from Hangar 111 on Saturday with the 460 kit installed and ready for action. Greg had already warned me that 'it's a bit rapid '. He showed me what had been done and spoke of magic and witchcraft that will put a smile on my face when I drive it.
At this point I would like to thank Hangar 111 again for looking after my car. Every time I have it upgraded or worked on it always comes out of the work shop as it went in. I understand that the 460 kit was a big job and I was delighted to see no oil, grease or residue anywhere on or in my car or in the engine bay from all that had been done. That in itself is a credit to Hangar 111.
I took what was going to be a long way home, but the volume of cars and dirt on the road meant I was destined for home and rarely got above 60mph. However, one week on, I soon managed to rack up just over 200 miles in the sun with my roof off, and managed a further 250 miles today in the sun around Suffolk & Norfolk. I didn't see one other Lotus!
So what's changed to me as a normal driver of a V6? Especially as I already had a 430 kit installed. Well, just about everything seems to have changed in terms of power because there is so much of it. It seems to have more bang, even lower in the rev range, and continues through to what seems the limiter. Fourth gear has never been used so much for coming out of the corners because it feels like third. Second is a few blinks of the eye and it's all over. Even fifth from about 70mph feels like it's been on steroids.
The power delivery is different from the 430, Its more aggressive and soon gives you a shove in the back like never before – it just keeps pulling until I thought my hair was going to come out at the roots. The car has run effortlessly and really has made the car a new experience to drive and enjoy. It's nice knowing that everything is cooler as well so hot days won't cause an issue with power.
I have a Komo-Tec system but with a Larini back box and the sound has also changed. I get a few more pops and bangs than I did, which I love, but it screams with amazing depth and the sound of power which matches the car.
It definately eats fuel faster than before, which is no problem, but it is noticeable. I managed 160miles out of a filled tank until the light come on (but I wasn't hanging about). And after calm had set it in a further 185 miles was clocked up before the light come on from full (maybe 10 – 15 less miles than before?) but I'm not counting it's just for comparison. I did all of this with the roof off and I Imagine with it on you may hear a little more of the supercharger.
At the same time, I had the carbon fibre side sills installed, and the quality is amazing. They go back far further than expected into the chassis and they are finished with a lovely edge. Hangar 111 improved the original idea of them as well, and I managed to keep my front mud guard on combined with them, so it looks finished now and of course will help to protect the sides of my car.
I am off to the Highlands tonight in it which will rack up about 2500 miles over the next week, and I hope to enjoy every moment of it which you can't fail to do in a Lotus of any kind.
And for the people that are about to say 'What's the point in all that power if you don't track it' – it's the same reason why you upgrade your phone, it does exactly the same but just a whole lot faster."