We would like to invite you to our first open day of 2010 here at our workshops in Waldringfield, near Ipswich in Suffolk.  On Sunday the 25th of April, there will be a number of Lotus vehicles on display including tuned Elise and Exige models, sprint and race cars and several ongoing project cars.  Feel free to come along and discuss any aspects of your Lotus and find out what we can do to make your Lotus handle, perform and look better with our many products and workshop services.
– The Time: 11AM to 4pm on Sunday the 25th April 2010
– The Place: Hangar 111 Lotus Performance, Seven Acres Business Park, Newbourne Road, Waldringfield, Suffolk. IP12 4PS.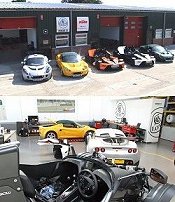 Also on the day:
– Refreshments will be available from 11am.
– Test drive our demonstrator Exige S2 with our 280bhp Toyota 2ZZ Supercharger Kit  fitted
– Parts Showroom – take a look at our latest product ranges
– Free Diagnostic Code Read – Let us check that your Lotus is running correctly
– Free corner weight check – by prior appointment*
– Simon Farren from Reverie (Carbon Composites) will be here to discuss Aerodynamics and Composites for the Elise, Exige and 2-Eleven.
– Elise S1 Suspension Refresh – Check out our latest offerings for revitalising your suspension.
– Elise S2 Emerald ECU Adapter – See how we have made a plug and play solution for the Elise S2.
– Toyota Engine Elise & Exige Maps – Find out what we can do with an inexpensive reflash of your ECU.
– STOP…PRESS…Colin and Jo from CAT Driver Training are hoping to come along – To Be Confirmed.
For details of how to find us CLICK HERE