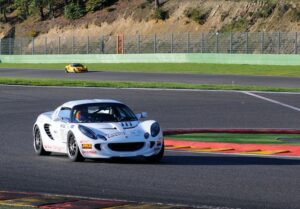 JRZ's Race suspension kits have gone through several design changes during 2011.  We have been busy testing these on our Elise 111R race car to very good effect (see our previous blog entries from the Race at Spa!).
Combined with our adjustable anti-roll bar and carefully selected springs (which are based on your intended use), the one-way adjustable JRZ One-Way Race kit is the perfect solution for road and track use.  In practice we have found the JRZ dampers to be more durable than any other unit on the market, requiring no expensive mid-season re-valving or replacement bearings.  Easily-accessible damping adjustment and fully-collapsable helper springs add to the benefits of these dampers.  Durable anodised finish, high-quality adjuster seals and Eibach springs finish the package neatly.
Rapidly growing worldwide interest in these kits has provided the opportunity to develop and refine the kits for the Lotus platforms.  We are pleased to have been a part of this development so watch this space for more on the subject in future!  The JRZ Race One-Way adjustable kit for the Lotus Evora is also available and the 2011 Elise 1.6 Club Racer Kit will be available in December.
Hangar 111 are the UK distributor for JRZ Suspension Engineering for Lotus applications.
Click here to find the JRZ Race One-Way Adjustable Kits in our online store