This affects Elise S1 / Exige S1 / 340R and Rover K-Series models fitted with original equipment front-mounted oil cooler.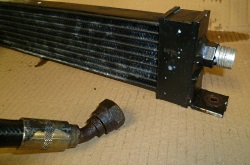 We have been carrying out numorous factory oil cooler recalls on Toyota 2ZZ-engined cars, where oil hoses are separating from the unions that are fitted to the oil coolers and sandwich plates.
More recently we have found the same situation on a much earlier Elise Sport 160 which features similar pressure-fitted swaged unions.  The main difference with the earlier cars is that the oil hose itself has been perished and found to be cracking.  This could of course lead to failure of the hose, with subsequent engine damage, and/or fire, or worse still – an accident.
Due to the use of the steel fittings on an aluminium cooler, often the fittings have seized due to corrosion over time. Since OEM parts are not always available, we have an alternative higher-capacity cooler radiator which fits in the original shroud under the crashbox.

We are compiling a kit of parts to replace the original hoses, oil cooler and unions which will allow a full refresh of the oil cooling circuit for these cars.