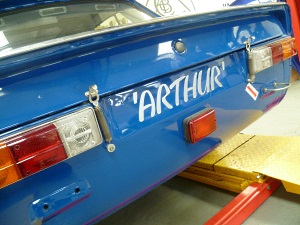 Winter is an ideal time for longer term projects, especially race or track car preparation for the forthcoming season. This year we are working on this brilliant Triumph Dolomite Sprint race car, affectionately known as "Arthur". Having been stored for a few years, Arthur's lady owner is looking to get back on the race track in 2016, so asked us to get the car back up and running to its full potential.
First job was to sort out some electrical issues. Where previously there was a bit of a mix and match of wiring, switches, fuseboxes, as well as some important bits totally missing, we soon had things consolidated, safe, and secure.  With a health check over, an oil change, and the small matter of a worn Lumenition resolved (leading to pretty vague ignition timing!), Arthur's engine was up and running, and sounding pretty good.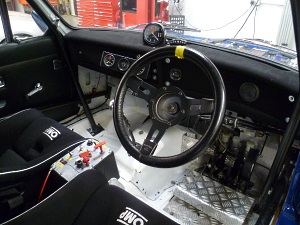 We then moved on to the interior of the car. The dash was showing signs of a racing past, with bits added here and there, some of which didn't really work with the seat in the position needed by the driver. So we re-worked the dash, including a nice fabric re-trim to remove any unwanted glare or reflections, with everything now focussed around allowing the driver to retain good visibility out of the car, whilst still having all the necessary gauges and switchgear to hand.  The addition of an electric blower heater for the windscreen, and the passenger seat & harness, will allow driver tuition to be comfortably carried out at test days.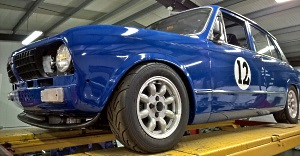 Next on the list is sorting out a few oil leaks on the underside of the car – not unusual for an older car!, some suspension & braking system check and setup, and time to take him out for a shakedown test. Watch this space for an update…


As an official Lotus service centre, Hangar 111 is able to carry out all warranty, contract servicing, and recall work.  We are equipped with all the current tools to diagnose and repair the very latest Lotus models. With factory-backed technical information and support, we can ensure your car is performing at its best, with any appropriate technical updates applied.
If your car is still under Lotus factory warranty, we are able to repair any warranted issues that may occur on your vehicle.  We can also carry out your routine servicing or factory upgrades whilst retaining your warranty status.
If you bought your car as part of the "3+3" deal, we can carry out the free contract servicing for you – contact us to make a booking.
All Toyota 2ZZ-engined Elise and Exige models may be subject to the recent oil cooler recall. If you are in any doubt whether your car is affected, or have you have purchased a car and want to know if this or any other recall work has been completed, we can help.  Get in touch with us, and we can check if your car has any outstanding recall work.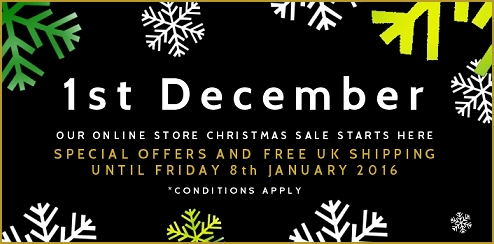 From Tuesday 1st December until Friday 8th January our online store Christmas sale will be on!  Throughout the store there will be discounts on a wide range of products and Free UK Shipping availability on orders during this time.  Simply enter the voucher code in the cart to apply the discount.
SPECIAL OFFERS ON A WIDE RANGE OF PRODUCTS
FREE SHIPPING AVAILABLE ON UK MAINLAND ORDERS*
USE VOUCHER CODE "HAPPY111" IN THE SHOPPING CART TO GET YOUR DISCOUNT
*Some items may be subject to additional charges if they are bulky or require additional insurance.  If you have a larger order in mind please call us!
Terms:
Special offer prices are for registered online customers only.
Prices are in effect from Midnight on 1st December 2015 until Midnight on 8th January 2016.
Offers apply to online orders only.
Cannot be used in conjuction with any other offer or group discount.
Free shipping excludes Fedex Next Day delivery.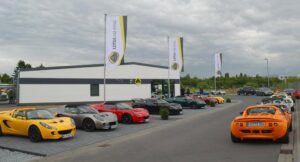 A couple of weeks ago we paid a visit to the HQ of our German tuning partner, Komo-Tec, based in Mendig. As well as seeing the impressive new showroom for their recent Lotus-Am-Ring dealership, we were able to have a sneak preview of the work-in-progress on all their latest developments for the V6 powered Exige and Evora cars.
Engine Upgrades
The next level of power upgrade for the V6 engine is the EX/EV460. This upgrade introduces the first chargecooler system available for the existing V6 cars. Fitting a chargecooler core to the existing engine configuration is no small task, due to the supercharger sitting within the vee of the engine. Komo-Tec have developed a clever solution to replace the existing inlet manifold with one which can house a core, the benefit of which is a very short post-core inlet length.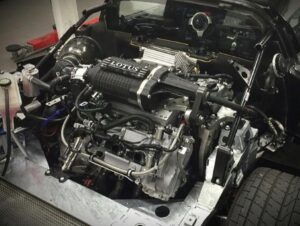 The resulting reduction in inlet temperatures allows yet more power to be safely made by the engine, with initial dyno mapping showing 452bhp and 360ft/lb of torque, an incredible increase of around 100bhp and 60ft/lb over the standard car!
Beyond the 460 power upgrade, there is also an EX500 upgrade in development. This is a much more serious upgrade path, that will be the basis of the 500+bhp upgrades. At this level, the engine internals need to be strengthened to cope with the additional loads, and also a larger supercharger is fitted to deliver increased boost levels.
The EX and EV 460 upgrade kits are scheduled for fitting to first customer cars in February 2016. The 500 kit will be undergoing significant testing in the new year with a view to the first customer cars fitted soon after that.
Transmission Upgrades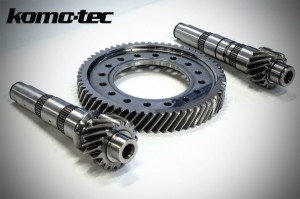 To compliment the power upgrades available for the engine, the close-ratio final drive kit is primarily designed to close the gap between 4th and 5th gears. On the standard gearbox there is a speed drop of some 44mph between 4th and 5th gear, whilst 5th and 6th remain quite close, the car is geared for a top speed of 195mph, which it is unlikely to achieve.  The gearbox actually has two final drives within, one for gears 1st to 4th, and a different one for 5th and 6th.  By modifying these final drive ratios, it is possible to achieve a better spread of the gear ratios, and also shorter gearing to give better acceleration throughout with little impact on realistic top speed.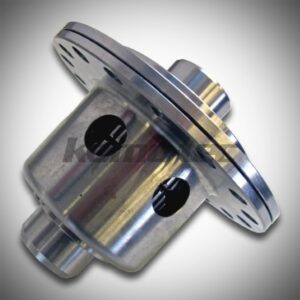 An ideal supplement to the close-ratio gear kit, a limited slip differential is also now available. This is a Salisbury-type LSD, with preset ramp angles developed for fast road and trackday use, to suit the characteristics of the V6 powered cars (ramp angles can be modified prior to installation if required). With this fitted, wheelspin out of corners is minimised, and wheels locking under braking almost totally eliminated.  This is the perfect upgrade for the trackday driver, providing increased confidence and speed on corner entry and exit.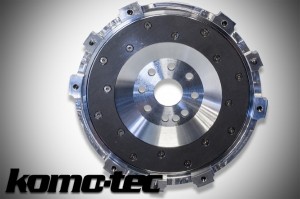 The ultra lightweight flywheel and uprated clutch kit, is specifically developed to deliver a more durable clutch system, as well as a reduction in rotational inertia in the drivetrain. A stronger clutch pressure plate and paddle clutch friction combine to give increased clutch bite, whilst the sprung friction plate means it retains road usability. The billet-machined lightweight flywheel provides sharper throttle response and increased speed and accuracy of gearchanges.
All transmission upgrades are now available via our online store.
Brake and Wheel Upgrades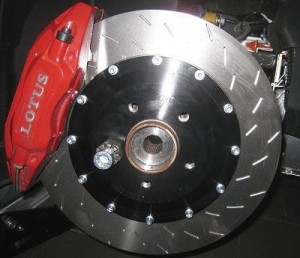 For fast road and trackday use, a brake upgrade kit is now available. The kit retains the original brake calipers, but replaces the discs with a larger 343mm rotor mounted via a high-quality aluminium bell. Despite the increased size, this brake bell and rotor combination weighs approx 0.5kg less than the standard disc, but still delivers increased braking power and reduced fade.  Complimenting the disc upgrade, are a set of uprated pads, which deliver excellent bite from cold, right through to high temperatures.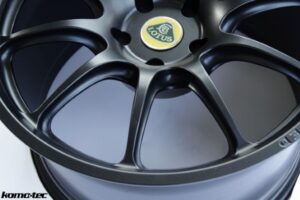 For those looking for an alternative road wheel, whilst retaining an OEM Lotus appearance, Komo-Tec have exclusively commissioned a forged alloy wheel. The wheel design matches those used in the current Elise range, but is now available in sizes to suit the V6 powered cars. These wheels are a direct replacement, with no need for spacers or longer wheel bolts, yet is significantly stronger and lighter than the standard wheels.
A set of these forged wheels weighs 8kg less than the standard wheels, providing a useful saving in rotational unsprung weight. Available in the UK via Hangar 111 – current pricing in our online store.
It was great to catch up with Daniel and the team at Komo-Tec, and all their latest developments ahead of the Luxembourg motorshow debut for the Exige EX460.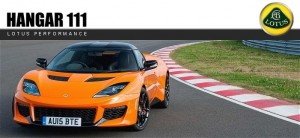 Some important changes are happening at Hangar 111 over the next few months!
What's happening?
On Monday 2nd November 2015, we will be announcing our new status as an Official Lotus Service Centre!  During 2015 we have been evaluated and inspected by Lotus and have now been given the thumbs-up.  After almost 14 years of serving the Lotus community we are proud to become affiliated with the sports car maker that we have always held so dear.
What does this mean?
The main benefit is to our customers. An authorised Lotus Service Centre receives full factory technical support, access to the full Genuine Parts range and the latest Technical Bulletins for newer vehicles.  As a Lotus Service Centre we are able to carry out those all-important warranty and recall items that may affect more recent vehicles.
The key benefits to our customers will be:
The ability to carry out factory authorised warranty work on newer Lotus vehicles.
The very latest factory diagnostics technology.
Access to the full Genuine Lotus Parts range and official Lotus Accessories via our website and parts counter.
Full factory-backed technical support.
Up-to-the-minute factory technical bulletins.
An official Lotus Service Stamp in your maintenance record.
So what will change?
While there are lots of added benefits to our customers, it will be more-or-less business as usual at our workshops.
Vehicles at Hangar 111 will still receive the same attention to detail that we have become renowned for, and the valuable Hangar 111 service stamp in your maintenance record will now feature the official Lotus roundel.  The performance parts and tuning aspects of the business will be unchanged. Our maintenance and servicing prices will still be outstanding value for money, and will continue to be carried out to the precise schedules as defined by Lotus.
Over the next few months you will see some tweaks and re-branding taking place on our websites and these updates will be announced in our newsletters.
Thank you for your continued support!